The Challenges
To date, the challenges to supercharging a 2-Stroke engine have generally been two major things. Number 1: Developing a trouble-free, effective system to get the power from the crankshaft to the compressor. This problem is mostly a mechanical and engineering challenge that we have overcome in an extremely creative way.
Number 2: Creating enough back pressure in the combustion chamber so that the boosted fuel mixture does not blow right through. This is one of the key problems the Ripcharger system has finally solved. This unique breakthrough technology with patents pending is the heart and soul of the product. As confidentiality is still of the utmost importance, the exact process is still under wraps, but field tests prove that it works extremely well.
Results: What Sets Ripcharger Apart From The Rest?
Basically, the Ripcharger Supercharger System puts your sled on steroids in a big way without sacrificing any of the things you love about your 2-stroke. There is nothing like more horsepower. We all know that. But until now it came at a cost (not just financially.) Other forced injection systems deliver only half the goods, and you pay the price in terms of added weight, heat buildup and more.
The Ripcharger System addresses all these issues. Following are just some of the advantages and benefits of this amazing technology:
First and Foremost: "RAW INSTANT POWER." From idle to full-throttle, you are boosted, resulting in the smoothest, most responsive power delivery ever on a boosted sled. No guesswork, no anticipation of a power surge, no annoying bogging when you are on and off the throttle. Just perfect, intuitive riding
Weight Reduction... Not Weight Gain. When the stock exhaust is replaced by the Ripcharger exhaust, the addition of the Ripcharger System actually results in a 5-8lb. weight reduction, unlike the other systems, and we all know, the lighter the better.
No Excess Heat Buildup. Although a supercharger does create some heat through compressing the air, it is significantly less than the other systems. The results are obvious. To name a few: lower engine temperatures, lower engine bay temperatures, less detonation probability.
Simple and Non-Invasive Installations. Less parts and pieces and almost no modifications are involved. PLUS, you can easily swap your Ripcharger system to your new sled. (Try this with a turbo kit.)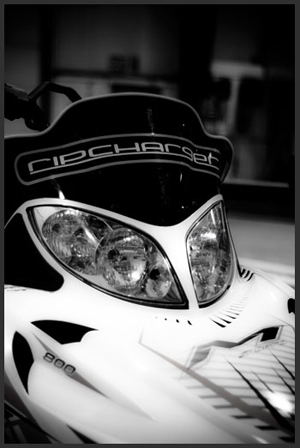 These are just a few of the reasons Ripcharger will soon be the standard for those of us living the dream. The Ripcharger system will be produced as a kit, which comprises all of the necessary components to install on a variety of different brands and models of snowmoblies. Because of it's unique features and competetive advantages, this product promises to be a very effective and popular performance accessory for this market, and the timing is perfect.